Four Springs Connector #652
---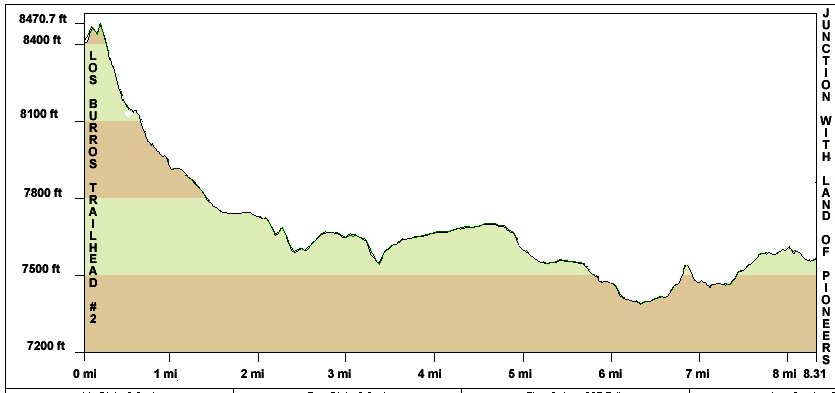 Distance: 8.3 Miles, 9 miles with Lake Mountain Spur
Difficulty: (as rated by the US Forest Service)
Hiking - Difficult
Mountain Biking - Difficult
Equestrian - Difficult
Trailhead Parking: Los Burros Trailhead and Land of the Pioneers Trailhead accommodate trailers.
Access to Trail: Available from either Los Burros Trailhed #2 or Land of the Pioneers Trail where it joins at FR 5. It also crosses FR 267 and FR 3 (at its junction with with FR 44), and is accessible from FR 269 which goes to the Lookout Tower.
Trail Highlights: Four Springs Trail connects Los Burros Trail #631 and Land of the Pioneers Trail #651. The trail winds between four springs and Hidden Lake. Dipping Vat Spring is the site of a historic sheep camp. Remnants of the dipping vat can be found in the meadow several hundred feet to the north of the tank. Several outstanding views of the White Mountains can be seen from the spur trail to Lake Mountain. Portions of this trail are extremely steep. Elevations range from 8500 feet on top of Lake Mountain to 7500 feet near Mud Spring. The "lake" on top of Lake Mountain is a natural depression on the east side of the mountain. The lake is ephemeral, filling with water from the snowmelt and during summer monsoons. There is a short, steep spur up to the lookout tower. The lookout tower on top of Lake Mountain was built in 1932. The ponderosa pine tree across from the tower was used as the lookout between 1912 and 1932. The tower is still used and open to the public during June and July.