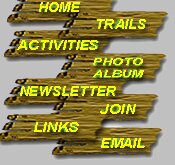 ---

PINETOP-LAKESIDE
CHAMBER OF COMMERCE
Features Area Accommodations, Lakes, Restaurants, Camping Info and More!!
CITY OF PINETOP-LAKESIDE
---
CITY OF SHOW LOW

MISSION...
TRACKS is dedicated to using, promoting, preserving, and protecting multi-use trails throughout Pinetop-Lakeside and the White Mountains. It strives to support and assist the development, maintenance, and improvement of non-motorized trails, and to provide a resource for education, communication, and social interaction designed to enhance the enjoyment of outdoor experiences on the trails.


---


VOLUNTEERISM...
TRACKS, as National Forest Service Volunteers, does weekly trail maintenance in the Pinetop-Lakeside, Show Low, and other areas throughout the White Mountains. TRACKS also participates in community Events, such as National Trails Day, Tour of the White Mountains, and Fall "Leafing" hike and pot luck dinner.

If you like the TRACKS concept click here to learn more about how you can support this organization.

HISTORY...
In 1987 at the first meeting of what was to become the White Mountains Horsemen's Association, 25 equestrians discussed the closing of an increasing number of long-term riding areas and decided that an organization was needed to preserve non-motorized trails for equestrians, hikers and mountain bikers. Thus began the long process of growing a trail system and TRACKS, a volunteer organization dedicated to work with the USFS in planning, developing and maintaining the White Mountains Trail System.

To learn more about the History of Tracks click here.

For the story on the TRACKS Emergency Responder Project, Click on the News Update link below

Invite your friends
to visit our
website.




Printable TRACKS Brochure and Trails System Master Map




Look for us on Facebook



Click Rainbow
for Current
Weather & Forecast