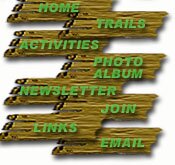 Click here to download and print a Hiking Release Form
Click here to download and print a Bicycling Release Form
Click here to download and print a Skiing Release Form

PINETOP-LAKESIDE
CHAMBER OF COMMERCE
Features Area Accommodations, Lakes, Restaurants, Camping Info and More!!
.

TRACKS Calendar of Events
DATE

EVENT

TIME AND LOCATION

March 2, Sunday

White Mountain Gem & Mineral Club General Meeting

1:00 PM Educational program on Mastodon found near Prescott. VFW in Show Low.

March 5, Wednesday

Audubon Monthly Meeting
Speaker will be Steve Campbell with U of AZ who will discuss Local Forest Ecology

6:30 PM Pinetop-Lakeside Town Council Chambers

March 6, Thursday

TRACKS Board Meeting

1:00 PM Parks & Rec TRACKS members welcome

March 7, Friday

Regional Science Fair

9:00 AM Blue Ridge High School

March 8, Saturday

TRACKS General Meeting

8:00 AM at Darbiís Restaurant. Arrive early to order breakfast

March 22, Saturday

Gem and Mineral Club Event:
Trip to Reserve, New Mexico for agate and artifacts.

Contact Rick Olson for more info at 928-251-0949.

Mondays

Trailwork

Trail Crew will resume work in March. Contact Liz at lizw01@frontiernet.net for details or Nick at lundaz@cableone.net to add your name to mailing list

Wednesdays

Up the Hill Gang Hikes
Continue through the winter. Please contact Heather Steiner for more information at steinerhm@aol.com or call her cell phone 480-620-1676

A more specific schedule will be back in effect starting in May. The summer hikes are coordinated by Jim Meeker and he will get the schedule to you in time for spring publication.
Invite your friends
to visit our
website.

Click Rainbow
for Current
Weather & Forecast