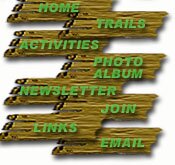 PINETOP-LAKESIDE
CHAMBER OF COMMERCE
Features Area Accommodations, Lakes, Restaurants, Camping Info and More!!
.

TRACKS Calendar of Events
Date

Event

Time and Location

December 7, Saturday
White Mountain Chorale presents "The Songs of Christmas" Tickets may be purchased in advanced from Chorale members or Contact Lynn Krigbaum, lynnkrigbaum@yahoo.com

7:00 pm Blue Ridge High School Auditorium. $10. Ticket sales are limited. Refreshments will be provided by the high school culinary class.

December 8, Sunday
White Mountain Chorale Concert The Messiah
7:00 PM at the Show Low LDS Church FREE
December 12, Thursday
TRACKS Board Meeting: Tracks Members Welcome
1:00 PM Parks and Rec on Woodland Rd.
December 14, Saturday
TRACKS General Meeting and Holiday Brunch
11:00 AM at Nick and Peggy Lund's. For directions, contact Nick at 532-0405 or lundaz@cableone.net
Wednesdays
Up the Hill Gang Hikes Every Wednesday morning (weather permitting) / Contact: Heather Steiner, 480-620-1676 for further information.
A more specific schedule will be back in effect starting in May. The summer hikes are coordinated by Jim Meeker and he will get the schedule > to you in time for spring publication.
Mondays
Trail Crew (Weather Permitting)

Contact Nick to get on mailing list for times and meeting places:

or call Liz at 928-537-1978
S
Invite your friends
to visit our
website.

Click Rainbow
for Current
Weather & Forecast