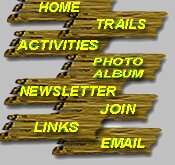 Click here to download and print a Hiking Release Form
Click here to download and print a Bicycling Release Form
Click here to download and print a Skiing Release Form

PINETOP-LAKESIDE
CHAMBER OF COMMERCE
Features Area Accommodations, Lakes, Restaurants, Camping Info and More!!
.

TRACKS Calendar of Events
DATE

EVENT

TIME AND LOCATION

November 5, Wednesday

Audubon Monthly Meeting
Speaker – Paul Green (Tucson Audubon President) – Global Warming and its effects on birds in Southeast Arizona

6:30 PM Pinetop-Lakeside Town Council Chambers

November 6, Thursday

TRACKS Board Meeting

1:00 PM Parks & Rec TRACKS members welcome

November 8, Saturday

TRACKS General Meeting and Breakfast

8:00 AM at Darbi's Restaurant. Arrive early to order breakfast

November 22, Saturday

Gem Club Outing to Holbrook Petroglyph Park. Call Rick Olsen for questions between Nov 15 - 21 at 928-551-8887.

8:30 AM meet at IGA in Snowflake to carpool.

Mondays

Trailwork

Contact Liz at lizw01@frontiernet.net for details or Nick at lundaz@cableone.net to add your name to mailing list

December 6, Saturday

White Mountain Chorale presents The Messiah

7:00 PM at the Downtown LDS Chapel. No charge, but limited seating.
For information, contact Lynn Krigbaum at ynnkrigbaum@yahoo.com

December 7, Saturday

White Mountain Chorale presents Songs of Christmas. Tickets $10, available from Chorale Members and at Chambers in Pinetop and show Low.

4:00 PM at Blue Ridge HS Auditorium. There will be refreshments durning intermission.