MISSION...
TRACKS is dedicated to using, promoting, preserving, and protecting multi-use trails throughout Pinetop-Lakeside and the White Mountains. It strives to support and assist the development, maintenance, and improvement of non-motorized trails, and to provide a resource for education, communication, and social interaction designed to enhance the enjoyment of outdoor experiences on the trails.

---
VOLUNTEERISM...
TRACKS, as National Forest Service Volunteers, does weekly trail maintenance in the Pinetop-Lakeside, Show Low, and other areas throughout the White Mountains. TRACKS also participates in community Events, such as National Trails Day, Tour of the White Mountains, and Fall "Leafing" hike and pot luck dinner.

If you like the TRACKS concept click here to learn more about how you can support this organization.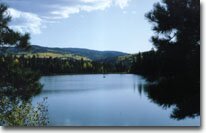 HISTORY...
TRACKS was slapped into existence on a cold, snowy evening in February 1987. The new White Mountains TRAILSYSTEM was born of trauma at the first meeting of what was to become the White Mountain Horsemen's Association. Twenty-five horsemen from the mountain met to commiserate the closing of an increasing number of long-term riding areas. This problem, a result of increasing population growth and uncaring developers, seemed destined to limit access to the forest for native and visitor alike.
But it is not nice to mess with 'mountain folk'! Once challenged, they act. So it began, the long, sometimes frustrating process of growing a TRAILSYSTEM.
It is here now. A reality ... strong, full of life, and still growing like a beautiful weed. To learn more about the History of Tracks click here.